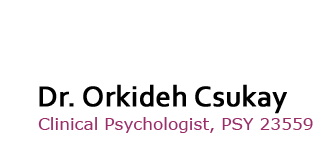 Specialties


Dr. Csukay is a tri-lingual psychotherapist who is fluent in English, Spanish and Farsi. She evaluates diagnoses and treats children, adolescents, adults and families. She has extensive training in providing family therapy to intact, separated, divorced and blended families with step-parents and step-children. She is particularly skilled in working with families from different countries and cultures. Dr. Csukay brings a high level of awareness and sensitivity to the impact that cultural values have on child rearing. Much of her work has focused on helping families from non-American cultures keep their traditional values and beliefs while raising their children in the American culture.

Parents raising difficult children will benefit from Dr. Csukay's extensive training and experience using behavior modification techniques to bring about positive changes in children's behavior. She is a trained provider of the "Catch Them Being Good" parenting program. In addition to children with ADD/ADHD and ODD, Dr. Csukay treats children who are challenged by depression, anxiety, adoption issues, social skills deficits, loss, grief and bereavement and Post Traumatic Stress Disorder. She also helps teens navigate their way through the difficult hurdles of adolescence including dating and romantic relationships, sexuality, and peer pressure for alcohol, sex and drugs. She has a unique approach to help parents and teens communicate about these difficult issues.

Dr. Csukay enjoys working with siblings of special needs children, helping them with the frustration that comes from living with a sibling who has behavioral and psychological difficulties. Dr. Csukay completed her Doctoral Dissertation on the study of sibling relationships and family dynamics when there is a child with autism in the home.